LIEUTENANT COMMANDER RYKO SKYLYNX

SHIP/STARBASE
USS Relentless

RANK
Lieutenant commander

DEPARTMENT


Command - First Officer

AGE : 31  yrs old
GENDER : Male


BIRTHPLACE :
SPECIES : Human/Betazoid
HEIGHT : 6 foot 9
WEIGHT : 200 lbs
HAIR COLOR : Brown
EYE COLOR : Blue

SKIN COLOR : Caucasian
BLOOD COLOR : Red
PHYSICAL DESCRIPTION Edit
Tall, lean and muscular, Ryko has been raised around combat zones and flying. He is friendly in appearance but his height makes him a force to be reckoned with.
FAMILY BACKGROUND Edit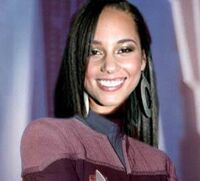 Mother Lara and father Jonathan Skylynx, Deceased. Ryko was born in an alternate reality to our own, the counterpart of the late Lt Senior Grade Ryko Skylynx, most recently of the USS Fearless, who died in a battle with alliance forces, along with friend and colleague Yalta Schafio. This alternate Ryko crossed into this universe via an unknown spacial phenomenon, believed to have been a gate between realities. This Ryko was friends with that Reality's Yalta Schafio, who was the fiancée of Ryko's best friend, Robin Wilson (alternate). Upon his death, oddly enough in a battle (during which Ryko was helmsman and TAC), Ryko made a vow to keep his friend's final wish- to protect Schafio. She later became CSO of the USS Relentless, while he was debriefed and promoted to Lt. Commander, before an assignment as first officer to the same vessel. Ryko was raised on starships, where he discovered a talent for TAC and helm positions, and became the most decorated Fighter Pilot in Fleet History.
EDUCATION and CAREER BACKGROUND Edit
Best described as "scattered", Ryko's career prior to crossing over was spent drifting from ship to ship, gaining promotions as he moved about to and from assignments. The original federation still existed in his reality, and following an extensive debriefing, he and Schafio were integrated into the society of this reality.
MEDICAL HISTORY Edit
No notable health defects.
HOBBIES and SKILLS Edit
Superlative Pilot and Marksman, and a gifted leader, Ryko is a team player and adapts well to new conditions. He has an air of dependability around him and his unsurpassed flight skill earned him the nickname "Sky". He also enjoys playing Guitar, Singing, and Reading. The works of Earth author Tom Clancy are among his favorites.