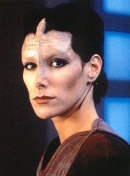 Humanoid race almost identical to Terrans. A genetic deficiency in the Kobliad protein Deuridium causes short lifespans on the the order of 25-30 years. The Kobliad are known to have a major crime problem related to theft or fraud of Deuridium. With proper dosage a Kobliad can live to be well over 100. They have applied for Federation Medical assistance but are currently bogged down in Prime Directive restrictions since they are not a Federation member and have no major treaties. Hence, they have recently applied for membership.
Ad blocker interference detected!
Wikia is a free-to-use site that makes money from advertising. We have a modified experience for viewers using ad blockers

Wikia is not accessible if you've made further modifications. Remove the custom ad blocker rule(s) and the page will load as expected.