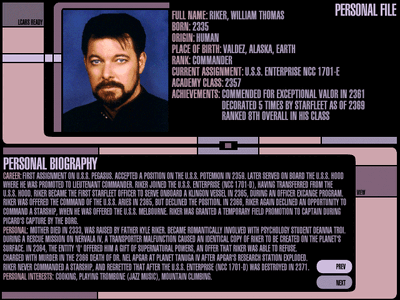 In all ships, we have our crew, with command, CEO, CSO, TAC/SC, etc.  All the personnel are carefully classified in this index in alphabetical order and contains the subject of :
Basic identification (Name, Gender, Origin...)
Physical description (What characterize the officers looks, like tying ones hair in a pony tail, a tatoo of somekind.)
Family background (Father, mother, siblings, or any other status.)
Education and Career background (Schooling and career progression)
Medical history (Any sickness, accidents, etc.)
Hobbies and skills (It can be anything.)
This to better identify the officer if necessary.   When you will be an officer of our fleet, you will have access to your own bio-file and will be able to complete it and add. It is the same for the Civilians and Guests on board the various ships.
(Very easy to change.  Each bios are the same, on the right side of the screen you have "Edit" link.  That way, you can write for that section and save the page via the button bellow the window.)