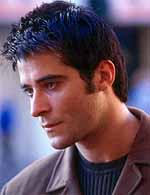 Humanoid inhabitants from Angosian III. Nonviolent by nature, they are advanced in the development of the mind and intellect. They petitioned for Federation membership in 2366. Their application was suspended upon revelations of abuse of veterans of their Tarsian War. These veterans were treated to intense psychological conditioning and exotic biochemical alterations to make them nearly invincible. These veterans were imprisoned on an uninhabitable moon to separate them from the populace. The Angosians have since resolved these problems and are close to achieving Federation membership.
Ad blocker interference detected!
Wikia is a free-to-use site that makes money from advertising. We have a modified experience for viewers using ad blockers

Wikia is not accessible if you've made further modifications. Remove the custom ad blocker rule(s) and the page will load as expected.